The climate is changing. Measured data indicate a warming in the last decades. What does this mean for us cyclists? Short – short in winter? Scorching heat in summer? Do we no longer have to go to Mallorca for the training camp in spring, but prefer to stay at home? Do heavy rain and thunderstorms spoil our tours? In this article we take a brief look at the changes that are already observable and let cycling organisers and cyclists from different holiday regions have their say, as they have experienced in climate change in recent years.
Measurements show a clear trend towards warming in Europe. One or two degrees more has a significant impact on nature, but when it comes to cycling, it doesn't make much difference. To understand the impact on cycling, you have to look at the change in weather as a whole. Weather consists of more than just the parameter temperature. Despite this clearly visible trend towards warming, the weather contains further fluctuations. Changes in precipitation, wind, sun or humidity are clearly noticeable when doing sports in the open air. What makes up our weather? In this case it is mainly the weather conditions. The influence of climate changes on weather conditions is difficult to quantify. There are scientific studies that partly contradict each other in their results. Nevertheless, in recent years patterns have been observed that are constantly repeating themselves.
1975 the Dutchman Rudi Carell sang "When will it be summer again" (german original: Wann wird's mal wieder richtig Sommer) with the line from the song: A summer like it used to be, with sunshine from June to September and not as wet and Siberian as last year. Well, changeable summer weather has been the rule rather than the exception for Central Europe so far and only the personal wish for a hot summer was the father of the thought, respectively the lyrics of the song.
Central Europe lies in the westerly wind zone. As the name already suggests, winds from western directions predominate. Frequently low pressure tails reach Europe from the Atlantic Ocean with humid air and in between there is a short high pressure influence. Rainy days alternate with friendly dry days and the temperatures are not very extreme. This has changed in the last years. More and more often stable high pressure areas remain over Central Europe or low pressure areas move only slowly from the spot. Heavy rain and flooding with millennium floods occur or in other cases extreme heat and drought with forest fires.
Research into these changes in weather conditions is still in its infancy. Attention spoilers: An in-depth article on climate change weather patterns will follow here on my blog. The cause of the change is most likely the greater warming at the poles compared to other continents. In some regions of Central Europe there has been constant high pressure weather with persistent drought in recent years, especially in spring. On the other hand, regions more at risk of drought, such as Spain or Greece, have seen larger amounts of rainfall. Let's listen to how the change is felt in different cycling holiday regions. In the following I will now give the floor to cyclists and organizers.
Alpine region: The Alpine region shows a comparatively stronger warming in terms of global temperature increase: about two degrees temperature increase over the last hundred years.
Oliver Schwarz, managing director of Ötztal Tourism since 2007, can report positive news for cycling. Every year, the legendary Ötztal Cycling Marathon starts in Sölden, in the Ötztal Valley: For us in the Ötztal Valley, the warmer summers are a blessing for summer tourism. In addition to hiking, cycling with all its facets plays a central role – from e-bike to the Ötztal Cycle Path, the Bike Republic Sölden to the Ötztal Cycle Marathon, the unique cycling offer combined with the noticeable warming from June to the end of September allows us to offer an attractive program for the target group(s).
What can be seen in the Ötztal valley also applies to the entire Tyrol region. According to Rosanna Buchauer (Tirol Werbung GmbH) it is not only in summer but also in winter that cyclists can take advantage of the changed climate conditions: In recent years, very different developments have been observed in the summer. In the past summers, there were always longer periods of heat and according to records of Austrian Weather Service (ZAMG), more sunshine could be observed in the summer months. This has led to a noticeable increase in demand. Especially people from the cities like to come to the cooler, alpine climate in the mountains – this renaissance of summer freshness has been observed here for quite some time. This year, on the other hand, the summer has so far been somewhat cooler. The temperate climate combined with the good infrastructure makes the province of Tyrol an interesting training area for professional sports – also for road cycling. Different regions of Tyrol are especially popular with racing bike teams in May, June and July. As far as winter is concerned, experts believe that there will be an increase in the variability of temperature and precipitation, as discussed, for example, by the Climate. Snow.Sport initiative, which is made up of a team of experts from climate and sports research institutions. There will be both pronounced periods with persistent precipitation in the form of snow and persistent periods with warmer temperatures without precipitation. Cyclists, in particular, have often been able to take advantage of the latter developments and started pedalling for the first time as early as the end of February or the beginning of March. However, it is difficult to make precise statements about the weather and precipitation, as there are great regional differences. As a sports and holiday destination, Tyrol is certainly well adapted to the changed conditions. On the one hand, we have a high level of expertise in winter sports and technical snowmaking. This means that snow reliability can be guaranteed even in winters with less precipitation. On the other hand, Tyrolean tourism is preparing itself for more changeable climate and weather conditions by investing in the development and expansion of complementary off-piste offers for quite some time.
The former professional cyclist Paco Wrolich is bike coordinator at Kärnten Werbung and always spent a lot of time on the bike throughout the year. He is therefore particularly aware of the climate change in Kärnten: About 10 years ago, there were a lot of foggy days at Lake Wörthersee (in my home region) from the end of October to February, but in recent years these days are hardly visible and perceptible. Today, cycling on Lake Wörthersee is possible almost all year round. The same is true for snow and ice. The Wörthersee was frozen over for the last time in the winter of 2005/06, when I was still skating from Klagenfurt to Velden and back, so about 20 km in one direction. Today there is hardly any imagination left, there is no longer any talk of a closed ice cover in winter. For the bicycle offer in Carinthia in general, all this is not necessarily a disadvantage. The cycling season starts earlier and lasts longer into the autumn. The mountain bike areas also open earlier and the lifts are open for this topic until the end of October. That was also quite different decades ago. As far as road cycling is concerned, Carinthia offers the very best conditions for road and MTB camps or for family-friendly cycling along the 1300 km of cycle paths. This is why Carinthia is putting more and more resources into promoting itself as a cycling destination. What has definitely increased is the wind. During my active time we had much less wind than today. These are my modest brief assessments of a very tiresome topic that affects us all.
Further along the southern side of the Alps in South Tyrol, changes due to climate change can also be observed. Michaela Zingerle from BikeHotels South Tyrol says: I am not a meteorologist, but I can observe that we have more severe thunderstorms than before. In the evening there is really lightning and thunder with sometimes heavy rain and hail. And that always very local, i.e. in a village the thunderstorm can rage and 7 km further there is nothing. We always recommend our guests, when thunderstorms are predicted, to start the tours early enough and to be back in the hotel accordingly in the late afternoon. This is the procedure for guided tours anyway. If there are days with cold fronts, there can be thunder and lightning at 6 o'clock in the morning. But the cold fronts can be predicted quite reliably. And on such days it is simply better to do without the tour. Bad weather in South Tyrol actually disappears relatively quickly. When you hear that north wind is coming, it gets dry. Autumn, especially October, has become a real summer prolongation in the last years. There you can often still go on high alpine tours. Of course, early snowfall at higher altitudes (for example in August) can also put a damper on your plans. In February March we ski in the Dolomites, in the area around Bozen you can already train perfectly on the racing bike, partly also towards Meran.
South France
Every year, the south region of France hosts numerous stages of the Tour de France. It is a popular destination for cyclists. One of the people at home here is Cédrick Dubois, former French MTB professional and winner of L'Étape du Tour and Gravel Roc d'Azur in 2019, who is concerned about the changes in his homeland and especially the environment: it is a fact that the climate is changing due to global warming. As cyclists who do outdoor sports every day, we can see every year that the weather is different. But it is not easy to make a connection with global warming. You have to have statements from long-term statistics. There are more and more weather warnings of storms, rain, floods and landslides in my area. There are more and more weather extremes. Some winters are very dry and the roads are very dusty. In January there are fires in the forests. Sometimes there are several days of heavy rainfall. This winter I have seen 2 or 3 times hurricanes on the sea because the sea temperature was so high. Normally it is very rare to observe this. But it is all just my perception. I don't want to be the one to say for sure that it's global warming. Maybe it's just a coincidence. Of course the climate is changing, but it's dangerous to put any heat wave on it. What I can observe, however, is that more and more cars are on the roads, more and more urbanisation is taking place and more and more human activities are going against environmental protection. I believe that we are only at the beginning. I am really pessimistic because nothing is being done to stop this. It is not yet an extreme situation for my everyday sporting activities. Some days the weather just goes crazy. So far it hasn't affected the way I train. But what will the summers or winters look like in 20 years?
Canary Islands
In winter cyclists like to escape from the snow and cold to the south and especially the Canary Islands are popular. For racing cyclists, Gran Canaria in particular is considered the island of the lucky ones. Andreas Suppan, a native of Upper Austria, who opened an exclusive Cyclo Canaria cycling centre on the sunny island of Gran Canaria and thus turned his hobby into his profession, states: I have been living in the south of Gran Canaria for 9 years now. Especially this zone is climatically preferred and is considered the most even climate zone in the world! And this is indeed the case: the temperature differences between the seasons are relatively small: in winter we normally have daily maximum temperatures between 20 and 24 degrees, in summer between 24 and 28 degrees (currently we have only 24.8 degrees in July 2020). And this has not really changed in recent years, in my opinion. But what I want to note is that the rainfall in the south of the island has generally decreased in the last years. Also other climatic changes such as wind, sunshine hours etc. I could not actually determine. The last years I visited my home country in summer and especially the last 3 years I noticed the extreme heat periods in Austria. Gran Canaria is "cool" in summer in comparison. Also I have experienced only one thunderstorm on Gran Canaria (and that was outside at the sea), in Austria it looks completely different.
South-East Europe: Cyprus
Thomas Wegmüller, former professional cyclist and owner of a local bike rental company Bike Cyprus is living in Cyprus and spend some weeks in his original home country Switzerland. He told me:
At the beginning of 1995-1999 I was in the region of Larnaca, in the east of the island. With a lot of wind and variable cloud cover, the temperatures were very pleasant. If we went to the mountains before mid-April, we often sat at the hot wood stove in Lefkara or Kornos for a little longer to warm up again, because it could be nasty if you were riding around in the mountain roads for too long. In showery weather we drove down to the plain again soon enough and could avoid the rain showers in the mountains or we made a tactical coffee stop and waited for the rain to come. The summers were devilishly hot even then. In winter there were blizzards and snowstorms that came down from the mountains to the sea, but disappeared again the next morning.
From 2000-2011 I was with the main base in Limassol at the south coast, there the weather was often very local, in addition we experienced the first dry years, with fantastic weather for cycling, but catastrophic lack of water. In Limassol I could observe that there was a kind of rhythm between the years and dry springs changed with rather wet months. But in general it was usually finished with rain after mid April. But it was also possible to go around the shower curtains in February and March without any problems, even if there were no weather apps available at that time. What I noticed during the years in Limassol were the extreme weather capers with often 28-32 degrees Celsius at the end of February and once even up to 38 degrees at the end of March. Then very dry months followed and finally practically all reservoirs were empty. What was also special were the sandstorms that usually happened at the beginning of May for a few days, then again a few drops of rain and after that the heating was like on full throttle. After such hot years, there were then more and more often years, which brought short term heavy precipitation. The rain was not continuous, but again and again strong showers and in between a few hours sun window.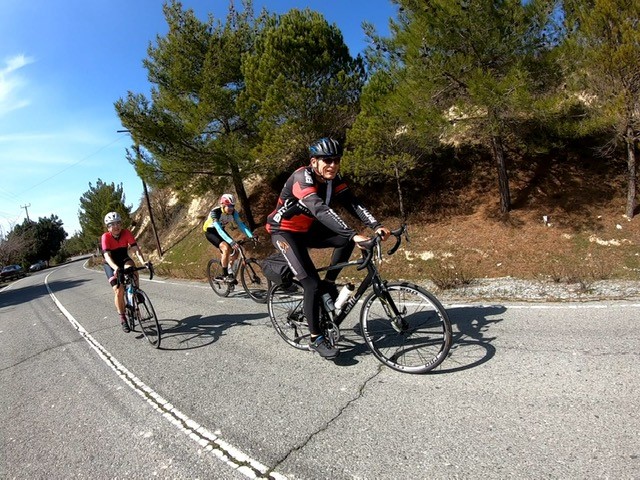 Since 2012 in Pissouri, I have very rarely got wet with my guides. But that was less due to the weather than to the guests, who preferred to shorten a tour back to the hotel on dry roads rather than having a coffee stop and waiting for a downpour. As a professional I have ridden a lot in the rain and I could also hit in the rain, but I only enjoy cycling in the sunshine, fortunately there is a lot of sunshine around Pissouri, because there perfect wind conditions often help to keep the bay clear with local thermals. What I have been experiencing in Pissouri for some years now, are rather cooler temperatures in spring with a lot of rain, but then again hot summer months and wonderful long late summers and fantastic autumn conditions, with warm days well into December. The longed-for rain for the population came at Christmas and at the beginning of the New Year, where this year all dams have been overflowing for several months. At that time I said to the locals: "wow, after so much rain, but not too many rainy days, there will surely be an extremely hot summer". And that's what it looks like now. This year there were already a lot of hot days in June and July with 40 degrees in the interior and pleasant 33-37 degrees on the coast. If my weather experience is correct, there will be a wonderful warm late summer and long autumn again, well into December, I am looking forward to that.
That the climate has changed since 1995 is shown by the weather capers in Europe, in the past we had warmer and warmer and sometimes much nicer weather than our friends in Switzerland or Central Europe. During the last 2-3 years it happened more and more often that I was told warmer day temperatures from Bern than we had in Pissouri on Cyprus and this in February and March, from April and May it was often almost the same, then from June it became warmer as usual in Cyprus, but July and August, bring also in Switzerland now over 32 degrees, which felt earlier less frequent.
In a nutshell: As different as the individual cycling destinations are, the changes caused by climate change are noticeable in all regions. An increase in temperature through all seasons is observed practically everywhere. Strong thunderstorms or heat waves can partially restrict cycling activities in summer. For higher-lying regions and the transitional seasons, warming has so far mostly offered advantages.